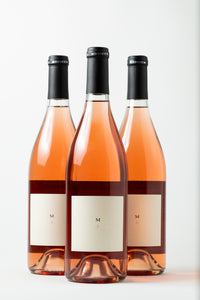 Tasting Notes: 
Raspberry, White Peach and Rose Petals.
Vineyard:
A blend of Pinot Noir clones from Scribe's estate farmed vineyards on the west-facing slopes of Arrowhead Mountain. A combination of Carneros loamy clay soils and the Scribe Estate's volcanic gravel and Huichica loam soils.
Vintage: 
A warm winter with below-average rainfall and a cool start to spring kept the vines dormant late into March.  Spring remained cool and brought moderate amounts of rain all the way to Memorial Day, keeping shoot growth fairly slow until early June. Mild summer weather contributed to slow fruit development until warmer August temperatures prevailed, pushing grapes to maturity quickly.  Harvest began on August 9th with favorable, temperate weather throughout the picking season. 
Cellar: 
Fruit for the 2022 Rosé was harvested between August 15th and September 5th. The fruit was foot-tread and allowed to sit on skins for up to 4 hours for color extraction. After soaking, it was whole-cluster pressed, followed by long and cold fermentations in stainless steel tanks. The separate lots were blended after aging in stainless steel.

Technical:
Alc 12%
Yield 3.17 tons/acre